08 strawberry candy
Milky pink like strawberry candy
・These loose-type single blushes are applied with the soft puff stick, for radiance and rosy color that melts lightly onto skin.
・The fuzzy sugar pink puff stick has fine, soft hairs that hold onto powder, so the blush can be easily applied by gently brushing the stick against cheeks. With light tapping motions, even the act of applying it looks lovely.
・Designed with a cotton candy motif. The candy-like cap is round and chubby, designed to evoke the softness and roundness of fuzz. The lid is decorated with scallop cuts that glitter when you take it in your hand.
・Crystal Floral Bouquet fragrance.

Beauty essences:
Rosemary extract, lavender oil, avocado oil (moisturizer)

☆Explanation of cap
The top is decorated with large engraving.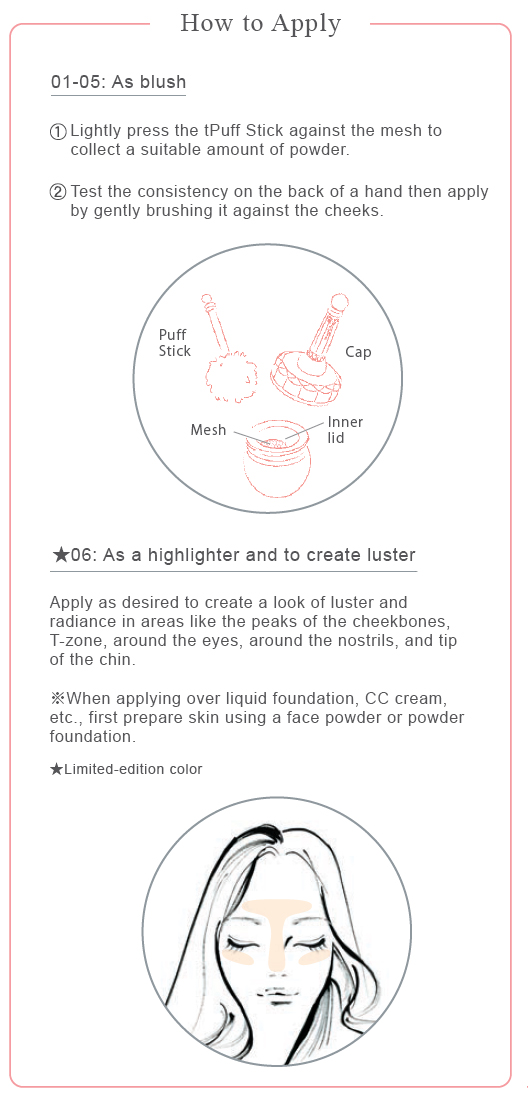 Cautions:
・After use, return the Puff Stick to the container and, holding the edge of the cap, close it tightly until it clicks.
(The inner lid and cap open and close together to prevent powder from leaking when item is carried)
・When there is only a little powder left, tilt the container towards the mesh and lightly tap to shift the powder before pressing the Puff Stick against the mesh.
・The decorative parts of the cap are delicate. Please avoid dropping or subjecting it to strong impacts.
・If the inner lid remains closed after the cap has been removed, hold the edge of the lid and twist to open.
・If the Puff Stick becomes dirty, remove powder using a tissue before use.
・To increase the life of the Puff Stick, avoid washing. If the Puff Stick needs washing, dissolve a small amount of detergent in warm water and wash gently (avoid soaking), then let dry completely in a shady spot. Due to characteristics of the product, color will remain on the puff.
・Additional Puff Sticks (JILL STUART Puff Stick) are sold separately.
☆Explanation of Puff Stick design
The top is grandly inlaid with a clear cut tip.